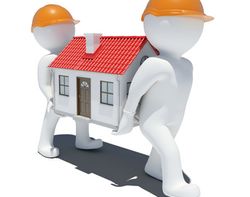 You may be wondering where I got the idea for the image I included at the top of today's blog.  The image symbolizes people moving out.  Getting tired and moving on, out of frustration from dealing with other people - in many cases, difficult people. 
About four years ago, my husband and I decided to explore one of my craziest ideas ever – we hired a live-in nanny.  We chose one of those United States Department of State sponsored programs, so we were confident everything was legit. 
I will be the first to admit it was painful for the first few months.  This young lady didn't speak English nor could she drive very well – two main things I needed out of the program.  Not to mention, we (my husband and I) had to be patient, we had to work with her and help to get her adjusted to our home, show her how to work appliances, etc.  It took time, patience, and diligence but we eventually got there.  My husband decided early on (actually before the young lady even arrived) that he would leave it up to me to handle all things concerning the nanny - with me being the lady of the house :-). 
From a household responsibility perspective, she was doing an excellent job.  Making sure the house was all nice and tidy (as it pertained to the kids), she took care of their laundry.  Cook them meals.  Prepared them for bed.  The works.  But she still wasn't comfortable driving on her own.  Consequently, we had to pay her weekly salary, the program company their fee, and before and after-school care fees because she wasn't able to drive to get the kids back and forth to school.  We were paying three times as much money and as time went by I didn't think it was any longer worth the money or the headache to stick with the program.  I wanted out.
There were days when I wouldn't speak to her, right here in the same house.  I harbored a cantankerous spirit that ate at me more and more as days went by.  I was extremely moody.  The least little thing she did, I was upset and was making noise about it.  Granted, I did have some personal things going on with me that would rightfully make me irritable, but did it excuse my behavior to treat another human being this way?
Now, I didn't mention this earlier, but one of the requirements my husband and I had when we filled out all the initial paperwork to bring her here was that she had to be a Christian.  My husband and I were Christians and believed in Jesus Christ and everything He represents.  At least that's what I said with my mouth.  My actions said something totally different.  In actions, I was a bitter, moody woman taking frustrations out on this young lady, when really she had nothing to do with my problems.  My issues were deep, inward heart issues that only God could work through and fix for me. 
I recall, it had gotten so bad to the point we had to bring in the Program Area Director for a mediation-type meeting which included me, the nanny, and the Area Director.  We addressed a number of issues that were valid on both ends and then I up and said (without thinking) the forbidden word.  REMATCH.  Which for those who might not be familiar with these programs, it simply means when the current nanny isn't working out the company works hard to try and find a new nanny to replace the current one.  The details of our conversation that evening still sticks with me.  Yes, I said it.  REMATCH. 
We gave the nanny two weeks to decide if she wanted to stay or to try to find another family.  I just knew she'd leave.  During that two weeks, I prayed and asked God to show me – ME!  I needed to dig deep and try to figure out where all the bitterness and hateful behavior was really coming from.  One of the things God made clear on the spot – that it wasn't the young lady.  It was me dealing with issues that existed long before she ever got here. 
The two weeks came by quickly and the nanny informed me that she'd made her decision to stay.  I dared not admit this then, but I was relieved she'd decided to stay.  That was something else God told me – she was the real thing.  A young woman who loved Him, one who was respectful, and one that genuinely loved my children. 
Here's my point: 
As I'd mentioned earlier, one of the things I required up front is that our nanny be a believer in Jesus Christ.  She was a Christian in every sense of the word and she showed me that.  The point of this blog post is to address how to deal with difficult (sometimes impossible) people.  And if you haven't experienced dealing with a difficult person yet in your life, my advice to you is to keep living.  It will most surely happen at some point.
The story I share above is my story.
Yours may not necessarily be in the form of a nanny, maybe it's your supervisor or another co-worker whom, it seems, is going out of their way to be difficult and to cause you undue stress.  And it may seem that it's for no apparent reason.  What options do you have?  Can you just walk away?  Sure, maybe you could quit your job and find a new one.  But what if it hits home more?  What if it's a family member?  Someone you can't just erase out of your life.  I am not sure what all my former nanny's reasons were for staying and she may have had some other personal reasons, but I believe with all my heart that it was also Jesus Christ and the fact she chose to live her life representing Him that made her see the good in me, despite my behavior.  And in turn, seeing how she lived her life, it made me want to be better.  She could have retaliated and could have been just as rude and hateful towards me as I'd been to her, but she didn't and she consequently allowed God to shine.
If you are dealing with someone that is currently acting as I behaved, appearing to be bitter and cantankerous towards you for no apparent reason, I advise you to try this: 
Firstly, pray for God's intervention.  Only He can fix a heart matter like this.  I am sure that's what my former nanny had to do.  Because He certainly fixed my heart.
Secondly, know the story…the background of a person.  If at all possible, try to understand what's driving the behavior before jumping on the defense.  In some cases, as was the case with my former nanny, I wouldn't let her in on the details of my private life and therefore she couldn't understand.  But if you are fortunate enough to be privy to this information, let's say someone is going through a painful divorce or just lost a loved one, knowing this information might give you a whole new perspective on things and will enable you to address the situation with the best approach.
Lastly and probably the most important, simply follow the instructions in Ephesians 4:32 (NIV) - Be kind and compassionate to one another, forgiving each other, just as in Christ God forgave you.
Blessings,
T.K. Farmer
Copyright 2015